Segnana and chocolate: an emotion to be experienced
Segnana grappa is undoubtedly a spirit in which the varietal aromas of the grapes are enhanced and highlighted. It is a distillate that is ideal for an unusual food pairing: grappa and very pure dark chocolate. These two products, apparently very different from each other, provide an example of perfect symbiosis of taste. The well-calibrated alcohol in the distillate in fact combines in a forthright yet aristocratic manner with the bitter-sweetness of the chocolate, transforming the "moment of consumption" into a successful and unforgettable liaison.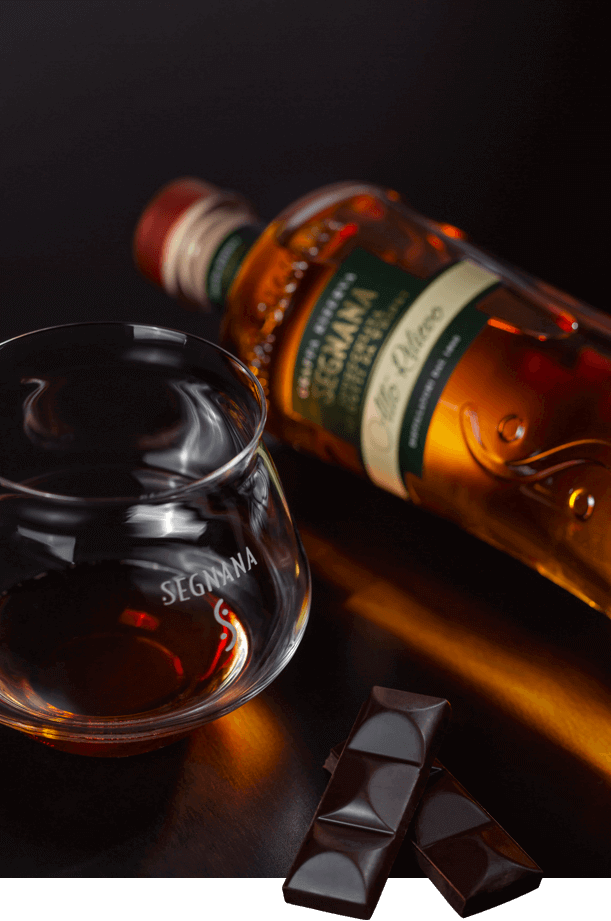 The vanilla-like and citrusy notes of Segnana's Solera di Solera Grappa go perfectly with the unique taste of chocolate from Modica in Sicily which, with its granular quality and intense spicy flavour produced by processing the cocoa beans with citrus fruits, ginger and cinnamon, fills the mouth in a rich, dark embrace. The alcohol in the grappa – mellow, ethereal, yet attractively vibrant – succeeds in cleansing the palate after every sip, enhancing at the same time all of the flavours.
Segnana Linea Solera and cigars: a harmony of tastes
A warm, well-balanced, fine and elegant grappa, the Aged Solera  represent an agreeable conclusion to a meal, but also the perfect complement to a special place such as an elegant fumoir. A baloon glass of Segnana Solera di Solera or Segnana Solera Collezione and a cigar are a perfect combination for accentuating a variety of aromas.
The vanilla-like and honeyed scents of a Solera di Solera, for instance, are transformed on the palate into notes of ripe fruit and an aftertaste with toasted and caramelized hints. This is enhanced by the warm, robust character of the tobacco, thus producing an attractive and refined sensation on the palate. It is then up to the experience and personal taste preferences of the consumer to choose the ideal combination.