Segnana among the partners of the Ristogolf Circuit for 2019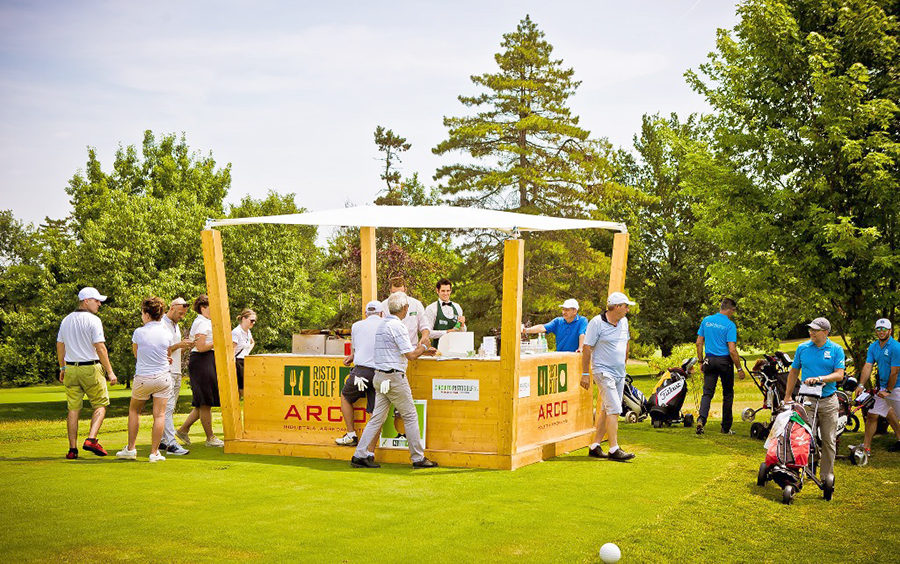 29 April 2019
The tastiest golf circuit in Italy presented its seventh edition on 6th May in Milan: an edition in which the Segnana grappa company will be an official partner of the event.
The circuit will begin in Piedmont on 15th May at the Circolo Golf Torino La Mandria; on 5th June, on the other hand, the players will meet at Como in Lombardy, at the Golf Club Monticello, before proceeding on 28th June to the Forte dei Marmi Golf Club to enjoy the beauty of Tuscany's Versilia area as well as taking on the difficulty of the course. For the fourth stage on 17th July, the "Ristogolfers" will return to Como, this time to the Menaggio & Cadenabbia Golf Club overlooking the Lake. The last stop is on 6th September, in Liguria, at the Circolo Golf e Tennis Rapallo, prior to the grand finale on 4th, 5th and 6th October – when Ristogolf will go to the exclusive Acaya Golf Resort & Spa on Puglia's Salento Peninsula, in the midst of century-old olive groves and Mediterranean shrubland, and just a stone's throw from the splendid waters of the Adriatic Sea.
Dreamt up by the Associazione Ristoratori Albergatori & Co. Golfisti, founded by Michelin-starred chefs Enrico Cerea, Giancarlo Morelli, Davide Scabin and Norbert Niederkofler and organised by director Dario Colloi, Ristogolf has now become an appointment that simply cannot be missed, thanks to its important partners and the top names in the restaurant business who have played in the various editions.
What makes this circuit special is in fact the part dedicated to food and beverage, from the "buvettes" on the course itself – gourmet "stations" where the guest chefs will offer the players refreshments during the game, with delicious snacks accompanied by excellent wines and cocktails – to the eagerly awaited moment of the cooking show with outstanding chefs at the end of each round and the "gourmet party" at the conclusion of each stage. Segnana will therefore be a protagonist of these many gourmet moments with its various products, each of which has different characteristics but a personality and style that are unmistakable.